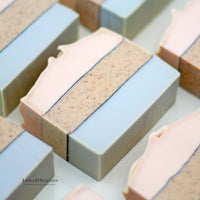 HELLO
I made my first batch in the year 2000 and was instantly hooked: I have been making soap ever since.
I remain captivated by the alchemy of creating something solid out of raw materials. It feels like magic and I never tire of pouring myself into my soaps, over and over again. 
Over the years I have honed my craft and I have come to understand what I personally like about it.
For me it's not just about making soap.  It's about using the best quality ingredients I can afford and making the end product luxurious and aesthetically pretty. 
I try hard to ensure these qualities are reflected in everything I make and I hope you will like my products as much as I do. Thank you for stopping by.